Along the Camino de Santiago, yellow arrows point the way. They're spray painted on walls, trees and pavement. Cement columns adorned with the symbol of the Camino (a scallop shell) provide information, too, letting us know how far we've still got to go before we reach our goal.
I'd come to rely quite heavily on those arrows and columns, using them as motivators to keep trudging along despite the sore knees, wobbly ankles and tight lower back. The 100 km marker's a huge milestone for many pilgrims, because they're finally down to the "double digits" after having walked in the "triples" for so long.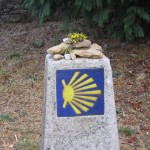 On day five, our group was to walk 24km, leaving only 4.5 km for the following day. Since it was going to be the longest and most hilly part of the trek, I really wanted to check off those mile markers (okay, technically they were kilometer markers). Susan and I couldn't wait to snap a photo of KM 9 as a souvenir of hitting the "single digits."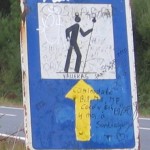 We kept walking and walking but the mile markers were gone. Sure, there were columns. Lots of freakin' columns with the shell and with the stupid yellow arrow, but where were the numbers? Gone.
Turns out, the KM markers stop at 12 because according to our guide, "pilgrims are not supposed to know how close they are. They should get excited about what they will see around the next turn."
I was so busy looking for outward signs of progress that I started to ignore the inward signs…the sore body, the feelings of anticipation and joy of a journey well spent with friends, the grouchiness our guide warned us about, and a whole host of other thoughts and feelings that were popping up about every minute or so.
Funny thing, but the night before Susan and I had composed the beginning of a welcome letter to our next group of Re-Treat participants: "Welcome, pilgrims, to the Camino de Santiago. You may not always get all the information you want, but you'll always have all the information you need."
Right in front of me, next to me, and all around me, was "information."  A good friend to carry my walking sticks when I couldn't anymore. A beautiful sunny day. Amazing scenery everywhere I looked. It was everything I needed.