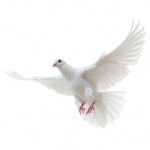 A friend and I recently chatted about the difference between peacekeepers and peacemakers.  It's an important distinction.
Peacekeepers are those who maintain the status quo.  The image of United Nations forces in blue, wearing body armor and holding rifles, comes to mind.  There's an irony there.  They'll use force if they have to, just to keep things quiet.
In our daily lives, that force could look like denial, or perhaps even willing ourselves to just stick out an untenable situation for the sake of the kids, status in others' eyes, or a paycheck.
Peacemakers, on the other hand, point out where peace is not and work on bringing it into the world.  They acknowledge and speak the truth.  They raise the hard questions, and shine light on the darkness.
Day to day, this behavior might be:
admitting that it's time to leave a job that no longer suits us,
getting rid of the clothes that haven't been worn in years,
ending the negative, defeatist self-talk,
noticing when we're in "know it all" mode, sure that we know what's best for everyone,
or admitting that we're sick to death of trying to be someone we're not.
Which one are you?