TUT strikes again!  This message landed in my inbox recently:
"Now let me get this straight, Christina: You want things that you don't yet have, people in your life who you don't yet know, and events to take place that haven't yet occurred, so that once these "things" come to pass you'll feel happy, confident, and fulfilled; accomplished, desired, and appreciated; treasured, adored, and like one bad mamma jama, a beautiful sight to see?
But… wasn't that your rationale for all the other stuff you wanted, that you now have?
Whooohoooooooo!
The Universe"
It got me thinking about how much space in my home is devoted to things that I no longer love or need, and how much of my energy is devoted to physical and mental clutter.  Here's an example: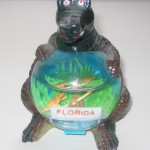 During my corporate days, a friend suggested I buy a cheesy souvenir on my first business trip.  I dutifully brought back a scary-looking alligator for my friend.  He said to keep it and watch what unfolded.  I laughed every time I looked at it.  My colleagues and I added to the collection, outdoing one another to find the ugliest.  Eventually, I had 200.  After leaving the company in '98 they went into boxes, stored in my closet.
Snow globes still sit in my home.  Only 30 or so remain, but that's enough to make me realize I've got a problem.  I like to think of it as a focusing problem, as in the "I cannot focus on this task long enough to really make a dent, so I won't bother at all" problem.  Or the "I'm cleaning out the snow globes, but over there in the kitchen, the spice rack really needs sorting" problem.  Can you relate?  Since I'm on the same journey as many of you, I thought I'd share what I've learned:
Don't Try this at Home
"

I will devote an entire day to this task.

"  Waaaay to big a chunk of time, and never going to happen.  That kind of thinking kept 200 globes in my house until 2007.
"

I'll sell this on eBay and make a killing off the snow globe collectors' community.

"  While this might be good for some items, it's important to weigh the effort you'll likely spend to dispose of it, versus the money you'll get.
What's Working for Me
The Do I Absolutely Love This or Do I Absolutely Need This in Order to Get Through The Day? Test

– Do I love 'em?  Sure.  Need 'em?  Not so much.

Take pictures of them to store on your computer

.  It's not the actual object we need in order to recall fond memories.

Five minutes at a time

– I set a timer and spent five minutes a day for a week, cleaning out papers from my office.  The pile got a lot smaller.

One item at a time

– My rule is to throw away one item from whatever room I enter, closet or cabinet I open, every time I do so.  Old mascara, spices, mate-less socks, books that don't feel like old friends, outdated contact info, etc. have been tossed.  Every time I come up with one thing, I feel a little twinge of victory!
What's This Got to Do With Making What's Next What Matters? Everything, my friends.  Absolutely everything.  If we hold onto old things, thoughts, relationships, jobs or anything else that's passed the expiration date of necessity and joy in our lives, we're not creating room for new and better opportunities.
That said, I draw the line at tossing my smile on a stick and my blue sparkly tiara.  After all, a girl's gotta have some fun!