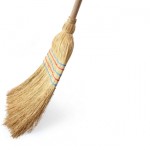 Thursday, I felt twinges in my right knee.  Given its past history (skiing accident, torn miniscus, arthritis, etc.) I decided to go easy on my daily walk and do 2 1/2 miles instead of the five I planned.
Yesterday, I was stiff.  Despite loads of stretching, my knee wouldn't loosen up.  I skipped the walk and stayed close to home, puttering and cleaning my office, and packing my suitcase.  By the end of the day, I was elevating and icing it, and taking prescription strength anti-inflammatory meds.
This morning, I called my Saturday Walking Buddy and bailed on our planned six mile walk.  My knee's letting me walk, but barely.  Putting weight on it for too long is a problem.  I'm using a cane.
I thought I was paying attention to my body, but clearly I wasn't listening hard enough.  Had I done so, I would have stretched more, stopped walking sooner and started icing sooner, too.
Why is this a big deal?  Because on Monday, I leave for Spain.  I'm off for our Re-Treat along the Camino de Santiago, where we're supposed to walk 100km in six days.  What's the likelihood of THAT happening now?  Crap.
Here's a random sampling of my thoughts:
"I'm angry at myself for letting my body get so out of shape."
"If I don't walk the whole way, the group will think I'm pathetic."
"Susan (my co-leader) will be disappointed in me."
"I've failed before I even gave it a shot."
"My dream is going to turn into a nightmare."
REALLY?  Wow, have I got work to do.  It's time to clean up these thoughts!
Is my body really out of shape?  I've been getting stronger each day, preparing for this walk.  It's been a long time since I've been able to walk this far.
Can I be sure that my body won't be ready to start the Camino next week?  I have no way of knowing what my body will be like next week, but I can certainly help it today by taking good care of it.
How do I know what the group will think of me and why would that matter, anyway?  I don't control their thoughts, and their thoughts are not my business.
Can I be sure that not walking the Camino is a failure?  I get to define "failure," so I'm calling this a success no matter what happens.
Will this be a nightmare?  Nope.  I've made a long-held dream come true – I'm headed to the Camino.
When I look at the thoughts, realize they're just a bunch of fear and garbage and clean 'em up, my body feels lighter.  And that can only help my knee.  Since I won't be walking today, or doing much else, I think I'll read some books.  Something inspirational.  Maybe about Spain.  It'll do me good to sit still and read.  And maybe that's what my knee wanted for me all along.